If you haven't read our Trayvon Martin pre-verdict opinion, here it is.
Check back because it will be updated when tips come in with names & pictures to publish. Look below for the descriptions & listen to the voices of these jurors & identify them for a researcher's fee: info@NewsBall.com
Well we thought we had an explosive picture to start this article……..
Like our discovery of the only Holly Lahti Lottery Winner picture which we sold to NY Post, Good Day LA, & others, & our comprehensive Skylar Neese Murder coverage which got mentioned at The Examiner & RadarOnline, we thought we had worked our magic again & dug up an obscure image of the 6 woman jury of the George Zimmerman murder case through a thumbnail on a youtube video from a month ago which had been edited from 3 images seemingly from a jury pool: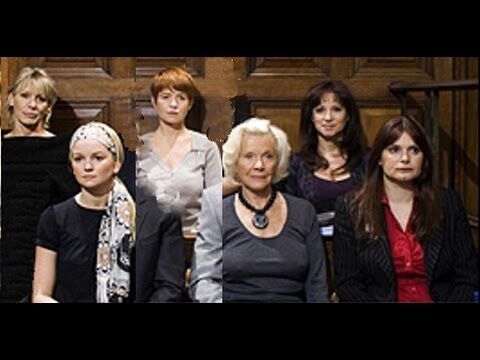 We were ready to publish it, but what a let down – it was a false lead! After running the image through Google Image database, we saw the true original image was from a BBC show called "The Verdict"! Someone took time editing out the males from 3 images to make that 6 female juror image just for one of their obscure youtube pretrial ZImmerman videos. Since he had access to raw videos, it seems like the image could be legit, but alas – no.
Now on to business.
$1,000 reward for the names & images of the 6 jurors described below.
We are still asking the public's help in identifying the names & visuals of the 6 females on the George Zimmerman jury. We are offering a reward, but make no mistake – this is not the days of the wild west – it is NOT a bounty. Because some idiots will take "reward" & run with it, let's call it a researcher's fee like we have received many times in the mass media coming to us to buy photos we dug up. We wish no harm on the jurors, we are making no threats towards the jurors, & we do not encourage anything of the sort. We want to publish their names in enforcing our policy to bring you uncensored news where ANYONE affecting ANYONE from public news stories are subject to scrutiny in the public spotlight. We have no other motive then strictly from a pure organic news principle. We bring you the aspects of the news that the mass media cannot do to liabilities & political correctness. So here is the extensive detailed information on each of the six jurors, along with their voices from their court interviews – as an aide to assist you in identifying your neighbor or acquaintances. When you have, contact us so we can publish that information as we strive to maintain our level of consistency in always revealing ANYONE affecting ANYONE.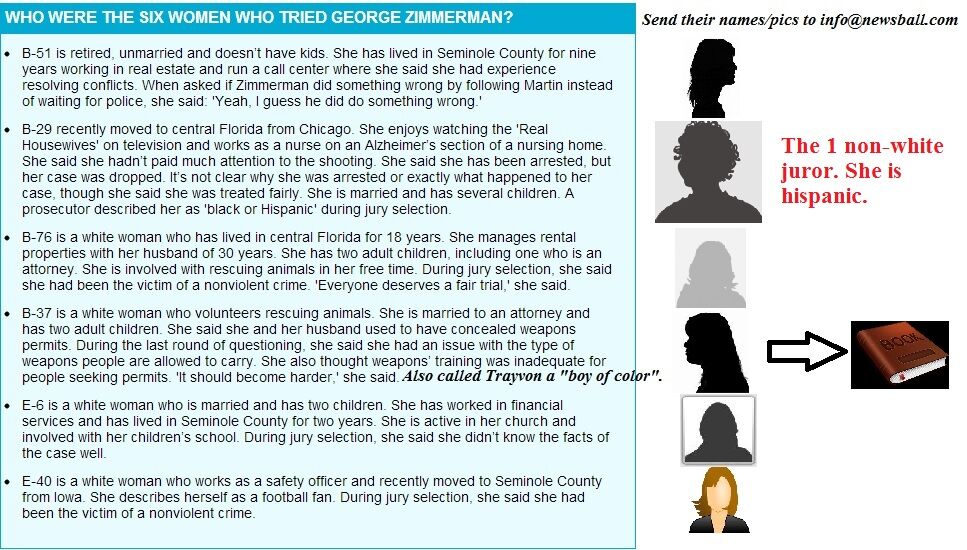 JUROR B37
She has signed with Sharlene Martin, a literary agent to write a book about her jury duty. You can contact Sharlene at Sharlene@MartinLiteraryManagement.com
UPDATE 7/16: Sharlene Martin (ironically, no relation to Trayvon Martin) has DROPPED Juror B37's book deal a day after her email to us.
B37 juror called Trayvon Martin "a boy of color" in the video below:
She went on CNN after signing a book deal, but that topic was off limits:
The bully in the group. She loves to talk & controlled the deliberations – even convincing the 1 minority juror B29 to change her vote from 2nd degree murder to not guilty. Juror B37, like most bullies, is not a very bright lady & its a shame we trust jurors like this to interpret laws when seeing if they can be applied to the charges on the table as she stated they wanted to convict Zimmerman of something, but they couldn't find something on how they interpreted the law! 18 minute mark in the CNN interview above – just disgusting: "George went a little too far??? He's learned a good lesson"!?!??
Originally from Iowa, she is not in Sanford, FL, but rather Oviedo, Winter Springs FL. She has many pets: 3 dogs, 4 cats, a parrot, a crow with one wing, two lizards & mentioned her 2 daughters as an afterthought – so her motherly instincts or care for children became suspect. She is the only juror to have had a license to carry a concealed gun. She goes to the shooting range with her husband, who has guns. He is an attorney, & together they are writing their surely captivating book about sitting in a trial for 3 weeks. This juror also says she hates the media, finds news worthless & she only used newspapers to line her parrot cages and that news is "skewed one way or the other." Funny now that she's publishing a book – the news is her best friend. She referred to peaceful marches demanding the arrest of Zimmerman in Sanford as "riots."
JUROR B29
This is the 1 minority juror. She is hispanic – like George Zimmerman. The rest are all white.
She is the ONLY one to not issue an anonymous statement yet, & was the 1 holdout that voted George Zimmerman was GUILTY of 2nd Degree Murder – until the bully & leader of the jurors (B37) beat her down to exhaustion & when she was going to hold out, walk out, & cause a hung jury – Juror B37 put the guilt on her stating 'No your not. We have done this for too long, came this far. We are doing this' until finally after enough bullying, Juror B29 was convinced to vote not guilty. UPDATE 7/26/20139 Juror B29 HAS INTERVIEWED. She is 36 years old & called "Maddy" in her interview". She says George Zimmerman got away with murder. She was bullied & guilt tripped by B37 into changing her vote from murder to not guilty. We are still asking the public for her name as we strive for uncensored, complete news that our readers expect. Do you recognize her? Send in her full name for a researcher's fee.
She has been arrested, but said the matter was no longer pending because the charges were dropped, that she had been treated fairly, and that she wouldn't hold the fact of her arrest against either side. (Usually those that have been arrested are pro-defense).
B29 just went on TV (7/25/13) to counter the lies told by B37:
Juror B29 is a 36 year old Hispanic nurse who works the night shift with Alzheimer's patients. She was a resident of Chicago at the time of the shooting, having arrived in Seminole county only four months prior to the start of the trial. This relatively recent arrival to the area is part of the explanation for why she says she has "no idea" about the case. In addition, she explained, "I don't like watching the news, period," and "I don't read any newspapers, don't watch the news." She also indicated that she didn't tend to watch crime procedural programs, saying that she preferred the real world to "make believe." She did, however, recall that some "little boy had passed away," and she assumed that "he was a kid, 12 or 13." She recalled seeing pictures of Trayvon in various formats, including T-shirts. She recalled hearing people talking talking about the event in the context of the "child who died."
B29 has eight children, the oldest of whom is 20 and recently returned home to look for work. She as been married for 10 years. Asked if she worked with any charitable type of organizations outside her regular job she answered, "My house is my organization." She speaks passionately about her children.
JUROR B51
When asked if Zimmerman had done anything wrong by being a part of the Neighborhood Program, this juror replied "No, he was doing what he was supposed to be doing."
She is retired, unmarried, and has no children, and lives with a dog and a 20-year-old cat. She has lived in Seminole county for 9 years. She works in real estate & runs a call center where she said she had experience resolving conflicts.
Strangely enough, she still managed to get on the jury despite saying she is a newspaper reader. She recalled that some people felt that Zimmerman was not arrested quickly enough, and that's why the police chief had lost his job.
JUROR B76
She wondered aloud why "a kid", meaning Trayvon Martin, was out at night getting candy. (He did in fact have skittles on him)
She has been a resident in Seminole country for almost two decades. Married for 30 years, she has two children, a 28-year-old son and a 26-year-old daughter. She and her husband once ran a construction company, but currently she is unemployed and her husband manages their several rental properties, which provide their main source of income. She spends much of her time rescuing pets in need of care.
In terms of recalling crime in her neighborhood, B76 mentioned teenagers vandalizing signs, but a call to the police seemed to resolve the matter. They had an already established Neighborhood Watch Program in her neighborhood at the time, & she recalled using it to call her neighbors about it at the time.
Although B76 described no personal experience with firearms, she did say that several close family members own guns.
On the subject of "taking the law into your own hands," B76 adamantly discusses the Good Samaritan law. "If you see a person who needs help, you don't necessarily just wait for the police to arrive. If I saw someone beating a child I would definitely get involved, I'd push the person down if I needed to, to protect the child."
JUROR E6
Like Hispanic juror B29 – this juror E6 also has been arrested, but says that she was treated fairly, was deserving of it, and would not hold it against either side in this case. She explained that it had been a domestic violence matter. (Again, usually those that have been arrested are pro-defense).

She is a white mother with adolescent children, 11- and 13-years-old, and again was a jury first presented to the court on the second day of jury selection. She had lived in Seminole county since 1999.
She told the Court that her husband had several guns in the household, including a 9mm pistol and .38 caliber revolver, and a couple of rifles. Her 13-year-old son also has a hunting rifle and some BB guns. E6 has been to the range once shooting actual firearms, and has done target practice with the BB guns.
JUROR E40
"Juror E40 looks at Trayvon's autopsy photos with pencil to mouth…"
E40 is a white woman in her 60s who was living in Iowa at the time the shooting occurred. She had lived in Seminole county for only 7 months prior to appearing for this jury service. She works as a safety officer, a profession she has practiced for more than 25 years. She has one child, a 28-year-old son currently looking for work. She had once before, 20 years ago, served on a criminal trial jury, and had liked the experience.
She does not have guns herself, but mentioned that her brother-in-law has hunting rifles.
Well? Listen to their voices, read their descriptions. We at NewsBall.com belief news is an art form & we believe in providing the full complete uncensored story. So your contribution would be greatly appreciated as an asset to the community of people that have invested much of their time following this & it's only fair that their curiosity is satisfied, as well as ANYONE AFFECTING ANYONE & ANYTHING ARE SUBJECT TO PUBLIC SCRUTINY & we are offering a $1,000 reward aka researcher's fee for these juror's names & pictures so that we may continue to provide our level of excellence in digging up the facts we want to report on. Their phone numbers/addresses are not wanted.
Trayvon Martin shirts & more on Amazon


George Zimmerman books & shirts on Amazon


Share this story
Related Articles:
CRIME SCENE PHOTOS: Have you seen Trayvon Martin's dead body? Does it sway your opinion vs George Zimmerman?
How George Zimmerman got away with sexually molesting his cousin from age 6 until 19
EXCLUSIVE: Book deal by Juror B37 of the George Zimmerman Trial DROPPED by literary agent after pressure by NewsBall
BREAKING EXCLUSIVE – Pictures of the family that George Zimmerman "SAVED" from a burning car or was it staged?
NewsBall under attack by the masses of misinformed – even lawyers – claiming FBI, DOJ, DHS, & other authorities were going to break down our doors & arrest us.