RACHEL SHOAF SENTENCED TO 30 YEARS IN PRISON
Prosecutor Marsha Ashdown shocks us all by finally revealing the details of Rachel Shoaf's confession from January 2013 – in the best sentencing speech in a long time!
Unlike Shelia Eddy's boring sentencing in which Shelia remained silent & was void of answers, Rachel Shoaf's has more then compensated for it as it exceeded our expectations.
"SKYLAR TRIED TO FLEE, BUT RACHEL TACKLED HER"
"Skylar was stabbed 10 times…..Her neck made weird sounds & they both continued to stab her until those noises stopped."
Monongalia County Circuit Judge Russell Clawges has sentenced a Monongalia County teen for her involvement in the July 2012 murder of Skylar Neese.
THE COMPLETE RAW VIDEO FOOTAGE FROM INSIDE THE COURT ROOM OF RACHEL SHOAF'S SENTENCING HEARING + FINAL COMMENTARY & INSIGHT & A SNEAK PEAK AT THE UPCOMING DR. PHIL SPECIAL ON THE SKYLAR NEESE MURDER STORY
While waiting to obtain the actual footage above, we put this interesting little segment together below, showing 2 other cases:
Judge Clawges sentenced Shoaf to 30 years in a state prison for the second degree murder of Skylar Neese. Judge Clawges denied Shoaf's attorney's actual request to get Rachel Shoaf sentenced as a juvenile! However, Shoaf will remain in a juvenile facility until her 18th birthday, at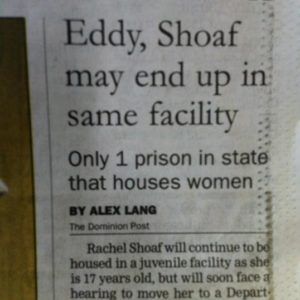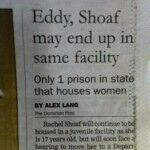 which time a hearing will be held to determine Shoaf's placement in an adult correctional facility, which will most likely be Lakin – with Shelia Eddy! Our Shelia Eddy family member source also stated this accurately weeks ago!
On the surface it looks like Shelia Eddy got the better deal despite not being the one to cooperate, confess, or speak prior to sentence, but not so fast. While the 30 years is a big statement for a killer that thought she had a plea agreement with a 20 year recommendation by the prosecution & much less time being requested from her lawyers, in reality, Rachel Shoaf is eligible for parole in 10 years! Shelia Eddy is eligible for parole in 15 years.
Shoaf spoke at the sentencing, offering an apology for her actions. She said that she is sorry and that words can't describe what she did. She apologized to God, Skylar's family, and the community. Shackled in chains, she struggled to get up & hold up her paper & read a statement that said:
"I'm so sorry. I don't if there is a proper way to make this apology because there aren't any words to describe the guilt & remorse that I feel each day for what I have done. The person that did that is not the real me. Not the person I am, not what I'm made of & not what I believe in. I don't think I ever thought that this would actually happen. I became scared & caught up in something that I did not want to do. I never realized the gravity of my actions (Mary Neese makes a shocked appalled face) & how many people I've hurt. I hurt the Neese family & those who love Skylar. I hurt my parents & shamed my family. I hurt my extended family & all of my friends who loved me. I hurt my teachers & those who believed in me. I hurt my church family, my community, & those who trusted me. & I hurt my lord & savior Jesus Christ. May God bring eternal peace to Skylar & the entire Neese family. Again I am so sorry & I pray each day for everyone involved & I pray each day for forgiveness." – Rachel Shoaf
Her defense attorney told the court that without Rachel's confession, there may not have ever been a case.
Skylar Neese's father, David, spoke at the sentencing, as did his brother, who was the most emotional & gave at times extremely powerful moments. Shoaf could be seen with her head in her hands and crying throughout the sentencing. Dave told Judge Clawges that he understands Rachel cooperated and helped, but that she murdered Skylar in cold blood. He said Shoaf should take her apologies and 'sit on them', and asked that she serve 40 years in prison.
Shoaf pleaded guilty to second-degree murder during a May 1 plea hearing. Judge Clawges said he felt that the state could have charged Shoaf with first-degree murder and wanted to make sure the plea agreement was okay with the Neese family. Prosecutor Marsha Ashdown methodically went through the lies Rachel told before finally confessing, & then the details of her confession. The Prosecutor reluctantly reminded the Court that the agreement from January 2013 recommended a 20 year sentence. The words the prosecutor used were very powerful as she stated Rachel "came in from the cold alone, & FIRST. That's when she confessed for a price." Rachel made a deal with the devil, & for her murder, "sold" her confession for a bargain to save her own life & the reward substantially less then a life term. THAT is her reward, & it is more then sufficient." No joke, she reminded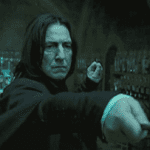 me of Snape from Harry Potter with the way she was speaking her dialogue. Some of her words were drawn out with emphasis like Snape does, & it's impact was felt. "Your honor, you know this case, you know what a proper sentence would be, & we ask that you impose …. that… adult sentence." The Judge then sounded confused as if Marsha Ashdown was no longer recommending the 20 years from a year ago: "Just so the record is clear Ms. Ashdown does the state stand behind the recommendation made in paragraph 3 of the plea agreement." Marsha still dodged the question & simply said "It is a recommendation your honor, & it is a part of the plea agreement." The court concluded by saying "OK, just wanted to make sure we weren't violating the plea agreement."
The judge then reminded everyone that the plea agreement was just that, a recommendation, & not binding upon the court. Rachel was then given a 30 year sentence.
The Shoaf family has issued this new statement:
"We continue to grieve over this tragedy. We acknowledge that Shelia Eddy has finally admitted her involvement and accepted responsibility for her actions in Skylar's death.
"Her death is consistent with the prior admission and statements made by Rachel Shoaf and will help to bring some closure in this matter for the Neese family without the necessity of their having to endure the pain and heartache of a trial.
"We continue to pray that we will all find peace in our hearts and the strength to move forward."
Shoaf's co-conspirator, Shelia Eddy, entered into a plea deal and was sentenced a few weeks ago. The plea deal includes a life sentence in prison with mercy. The mercy designation means that Eddy will be eligible for parole after she serves 15 years in prison.
Shoaf will also be required to pay restitution for Skylar's funeral expenses and court costs.
Once she has been transferred to state prison, we WILL have her mailing address & mugshot posted here.
We will also be sharing some more teaser information about the upcoming Dateline NBC & Dr Phil Show that have both filmed specials on the Skylar Neese Murder so stay tuned. We will post the shows on NewsBall in case you miss their airings in 1-2 weeks from now.
Subscribe to NewsBall notifications!
When we publish new stories worthy of your attention & which we are extra proud of & demands attention, you will be the 1st to know! Enter your name & email & we will send you a quick notification with a link & description – every time we post something exposure worthy.
(It won't be often – we will decide on a case by case basis which deserves an alert & which will just require you to check the site for the lesser stories. We believe in QUALITY not spitting out endless quantity so don't worry about being spammed or flooded – not going to happen!)
Share this story
RELATED ARTICLES IN THE SKYLAR NEESE MURDER STORY
*June 1, 2013 UPDATE* ORIGINAL STORY The Murder of Skylar Neese & her 2 BFF Killer's Rachel Shoaf & Shelia Eddy
*June 8, 2013 UPDATE* The Globe & Dateline NBC have both contacted us with interest to also report on the Skylar Neese murder.
*June 14, 2013 UPDATE* Police Chief of Morgantown hears about this report. The heat is on the authorities now to bring justice to Skylar & life in prison to Shelia!!!
*June 20, 2013 UPDATE* Shania Ammons goes private, while we go more public!
*June 25, 2013 UPDATE* Coroner refuses to give up the body of Skylar Neese to her parents – CALL & EMAIL HIM!
*June 27, 2013 UPDATE* Shania Ammons Arrested, About the Gang, & Mail.
*June 28, 2013 UPDATE* Exclusive Interview with the surviving victim that killer Shelia Eddy tried to destroy
*June 29, 2013 UPDATE* Radar Online credits NewsBall for the Skylar Neese Murder story in their article
*June 30, 2013 UPDATE* (Video) Mass Media are protecting a killer – SO Shelia Eddy Shelia Eddy SHELIA EDDY SHELIA EDDY
*July 1, 2013 UPDATE* LANDMARK MOMENT: Examiner gives NewsBall credit & identifies Shelia Eddy
*July 9, 2013 UPDATE* (VIDEO) EXCLUSIVE Footage of Killer Shelia Eddy with victim Skylar, text convos, family pictures, & case updates
*July 19, 2013 UPDATE* (AUDIO) EXCLUSIVE – Close family member of Shelia Eddy reveals more details that the authorities won't share
*January 24, 2014 UPDATE* UPDATE: Skylar Neese's Killer GUILTY & SENTENCED! Defiant & brazen Shelia Eddy pleads GUILTY to killing Skylar Neese & is QUIETLY sentenced the same day!
*February 20, 2014 UPDATE* JAM PACKED FINALE on the Skylar Neese Murder Case: lesbian sex tape confirmed, Shelia's mugshot & her prison mailing address, new pictures, interviews & more
*March 5, 2014 UPDATE* The Skylar Neese Epilogue – Everything from Shelia Eddy PRISON LETTERS to Skylar's Story on NATIONAL TV SHOWS