Also in this blog:
*Details of the public arrest at Cracker Barrel
*The lesbian love affair between the 2 killers + another suspect
*Authorities allow the killers to roam free for 4 months after confessing!
-Including being allowed to go to prom weeks before arrest!
Give your thoughts & leave a comment here
Catch up on the Skylar Neese murder story in order of airing:


All media outlets are protecting the 2nd killer's identity. Except us…
While all mainstream media news outlets are choosing to let one of the killers of 16 year old Skylar Neese remain a mysterious unidentified girl, we couldn't care less about protecting her identify, & therefore shall expose the cruel evil spawn of Satan & the killer she is right here right now exclusively on NewsBall.com since June 1, 2013.
This is a tale of defiant & brazen high school teens – seemingly ripped straight out of the TV scripts from the Pretty Little Liars drama meets Buckwild reality show for a spin off train wreck disaster. An underlying theme of adults wanting to be their child's negligent friend instead of their responsible parent. Of celebrated drug use within the nation's largest college party town. A tale of how social media allows these already aimlessly roaming guide-less filled youth to be even more reckless, disrespectful, & out of touch with reality – out of sight out of mind – in pretending like IT never happened & to carry on acting normally. Somewhere along the way over the years & evident glaringly with this case, Morgantown lost its moral compass in becoming conducive breeding grounds for trouble – because as many locals told me – it wasn't always like this.
For those unfamiliar with the story, Skylar Neese was lured out of her room on the night of July 6, 2012 by her 2 best friends. They drove her to this rural area called Eddy Run Road into Pennsylvania about 30 minutes away from their Morgantown, West Virginia homes. Once at their planned grave site for their best friend, upon the count of 3, they stabbed Skylar to death, tossed her body on the side of the road, & when they failed to be able to dig her grave & bury her, just covered her body with branches & left her here.
The next day, Skylar's mother Mary Earl Neese knew something was wrong & took to facebook. Because of the usual incompetency with authorities, they did not take Skylar's disappearance seriously since she had climbed out of her bedroom window to get in the car of her two best friends, so an Amber Alert wasn't issued. Authorities pegged Skylar a runaway. Additionally, because the body was dumped in this NO Trespassing area of back roads, her body was not found & Skylar was a missing person's case for the remainder of 2012 with no big search party ever assembling. By the end of the year, Skylar's mother Mary put it all on the table in this long impassioned plea to the public. The break in the case came as 16 year old Rachel Shoaf was admitted into Chestnut Ridge psychiatric hospital at the end of the year, undoubtedly being haunted with the guilty conscious of what she had done to her best friend, aided by months of relentless taunting & mocking harassment from the locals of Morgantown, who knew that she was one of the killers while the authorities were still "investigating".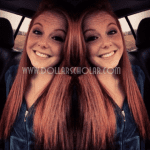 The combination of this, along with knowing that the jig was up as authorities were continuing to close in based on the surveillance video & other evidence they had placing Skylar in the company of her 2 friends the night she disappeared, brought her confession to killing Skylar on January 3rd. She then led authorities to Skylar's body on January 16th, & because of 6 months of the body decomposing in the wilderness, it took until March 13th to officially identify & announce that the body found was indeed Skylar Neese.
In Rachel's confession, she revealed a second girl not only helped in the murder, but was the mastermind & that they killed Skylar simply because they did not want to be friends with her anymore. Say whaaa!? This 2nd girls name is not being revealed by the media because she is a juvenile & she has not been charged as an adult yet, but it is not going to stop us from identifying her. You got 2 near legal adult girls who ruthlessly plan to murder their friend, stab her to death up to 50 times, slit her throat near decapitation, & toss her body on the side of the road. Then they lie to the FBI for nearly a year until one killer cracks & confesses Jan 3 under mounting pressure by the authorities & the locals, but then is allowed to stay free along with the second killer for 4 more months! Yes, roam 100% free! Keep reading!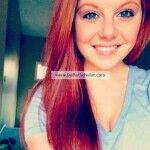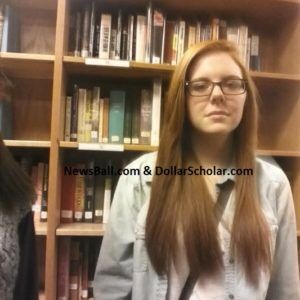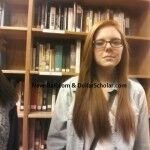 Due to Rachel's cooperation in coming forward, admitting guilt, & giving up her friend/lover (we will get to this later), she now only faces up to 40 years in prison, but the plea deal she reached allowed her to plead guilty to 2nd degree murder & calls for the judge to give her a 20 year sentence. This isn't a case of complexities – they killed simply because they did not want to be friends anymore, or whatever other trivial nonsense may come to light about meaningless relationship or twitter feuds among the high schooler's. This would be a 1 day trial & void of mitigating circumstances. Their lack of motive or so called reason, coupled with the fact that they killed a young girl PERIOD is enough to make me want to give them the death penalty – & I'm not even a fan of the death penalty.
The unidentified & currently still protected by the media 2nd killer of Skylar's murder is 16 year old

Shelia Eddy

Aside from the locals of Morgantown, WV who have been playing detectives for months – you heard it here first! It's a shame bigger news outlets are afraid of sue happy parents of minors, but we are not, especially not the disgraced & embarrassed Shoaf's & Eddy's. Recall that we wrote above that Skylar's body was found on Eddy Run Road? That's not a coincidence – Shelia's divorced father Greg Eddy lives in a trailer on farmland that his ancestors own, & the road is named after them.

What would possess these 2 girls to stab Skylar to death? Luckily for us, we can go inside the mind of the main wicked little girl. Her twitter provides a glimpse of her inner thoughts as we browse her 4,000+ tweets.
July 8, 2012, just 2 days after murdering Skylar, she STILL can't sleep: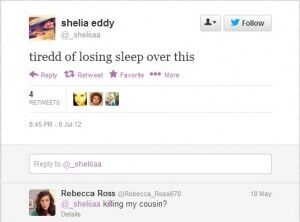 On August 10th & August 22, 2012 her most repulsive act seen in this article! She posts on the Team Skylar Facebook page, & comments back & forth with Skylar's Dad: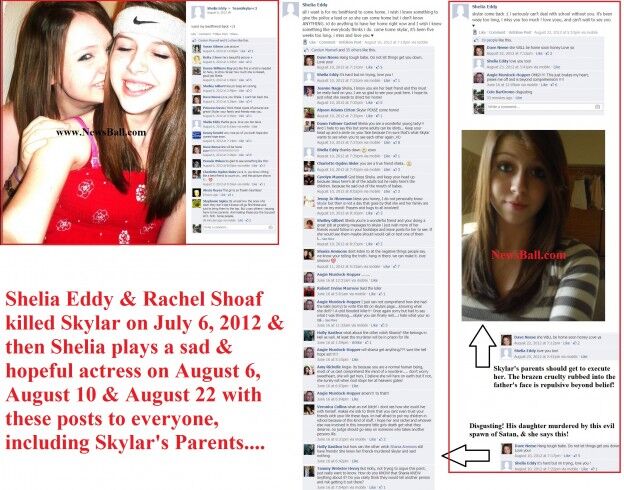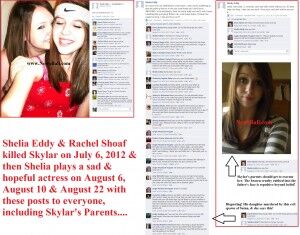 On October 2, 2012, almost 3 months later, she put on quite the fake act: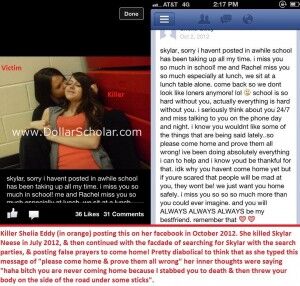 On November 5th, 2012, with rising heat from authorities & relentless locals: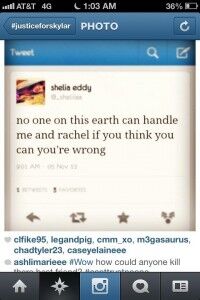 On January 13, 2013 she wants things to go back to normal:
On Feb 13, 2013 she loves being 1 step ahead & making someone not exist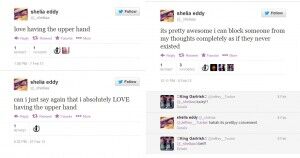 The day Skylar's body was identified on March 13, 2013, more repulsion: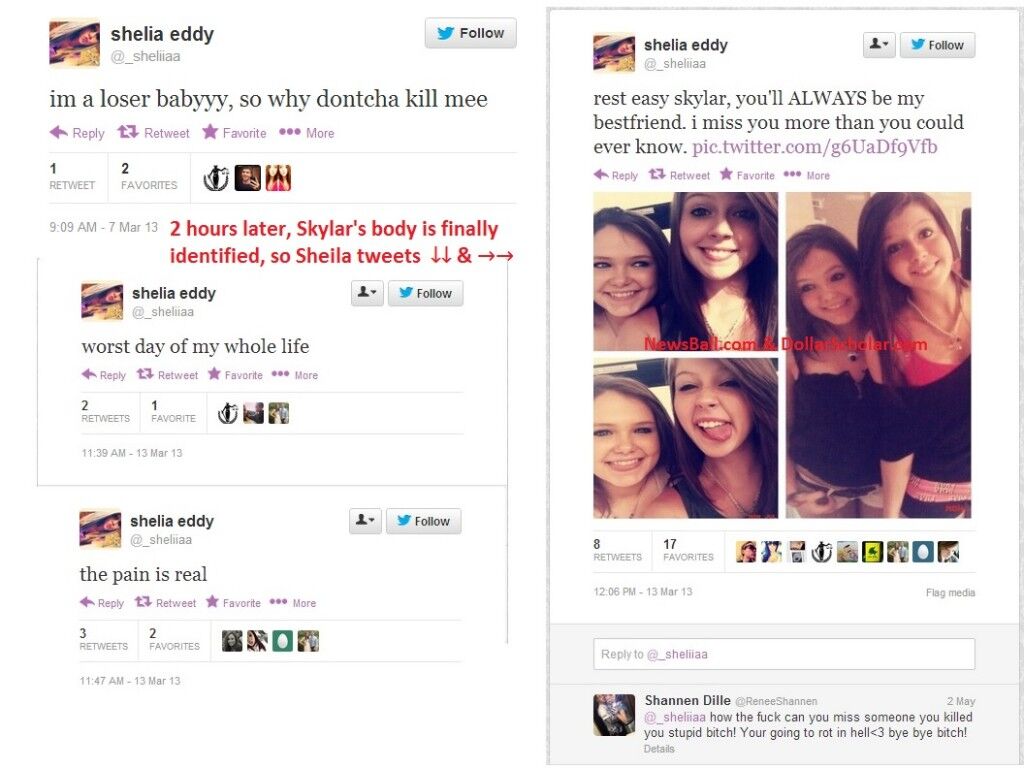 & just a few days before she's taken into custody on May 1st her final tweets: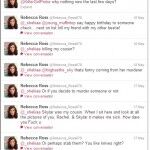 Skylar's cousin has been sounding off against Shelia Eddy's twitter, even though Shelia hasn't tweeted since April 30th because she is in custody, & probably will never tweet again. Not because she won't ever get out of prison because I am sure she will, but because Twitter, like all fad novelty websites, will eventually fade away.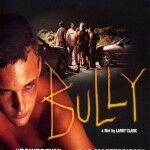 Is this a modern day story of the 2001 movie BULLY gone bad? Privileged kids, a sense of entitlement, too much free time on their hands, & drugs? Aside from privileged, seems there are those similarities, but there is no bullying aspect to suggest any more to this case then what is on the surface: Skylar was murdered because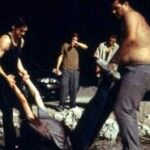 the 2 killers did not want to be her friend anymore! Doesn't there have to be a motive better then that? A bully or stolen boyfriend/jealousy aspect? Or does a drug induced motive suffice to kill people these days? All appalling reasons, but give me something to lessen this from horrifying evil to just evil! I mean, sure, browsing Skylar Neese's twitter of 2,000+ tweets about being high & cat fight feuds will annoy the heck out of you (like this one, which she ended up being deadly wrong about, 'maybe if she wasn't high she would have seen what was coming or strong enough to fight or escape?' Or like this one, which showcases the superficial HS drama that consumed her just as much as any of them), & may cast her in at least a 5% less of an angelic light then the impression articles & news clips will have you draw of her, but that's usually the case with any deceased person – casting someone in their best light. It's still hard to imagine that at worst, Skylar was any more then a stoner who had the typical High School spats & stabbings in the back over relationships & cheating, & whom most certainly did NOT deserve to die by literally being stabbed in the back by her friends.
Skylar seemed to be on to something as she tweeted these on July 5, 2012 & July 6, 2012 – the day before she was murdered. Who was she talking about, Rachel or Shelia?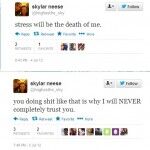 The Lesbian Triangle Love Affair Motive
*June 3, 2013 UPDATE* Bully motive? No. Scorned ex gf or cheating motive? No. Upon further investigation, we have now learned from our sources within Morgantown that Shelia & Skylar were best friends since 2nd grade, & that Rachel was getting jealous of this friendship, why? Because Shelia & Rachel were in a lesbian relationship & they were getting obsessed with each other, so Shelia decided that Skylar was getting in the way of their lesbian affair. In fact, this was a love triangle involving threesomes with the two killers Shelia & Rachel & Shelia's other best friend – Shania Ammons…
This third girl Shania Ammons – who was in love with Shelia – is without question the most intimidating & violent sounding of the group. Just take one look at a handful of her year long of threats where she wishes death upon anyone & everyone – to get a sense as to where the idea to kill one of their own helped influence Shelia & Rachel. She was supposedly a best friend of Skylar Neeese' too, & to this day puts out contrived & manipulated statements about how much she loves Skylar & is doing things in her memory, yet at the same time then contradicts all of that by telling Mary & Dave Neese how "bad of parents" they were to Skylar. Not that her love for people means anything – she loves Nicki Minaj even more then Skylar, & wants to see Ms. "Minaj beat the shit out of someone". We have a source that has stated Shania wanted to see Shelia beat up victim Skylar last year. Is this some sort of sadistic sexual gratification since Shania is a bisexual who was in a lesbian relationship with Shelia. So the fact that Shania loves Nicki Minaj on an "unreal" level, & wants to see Nicki Minaj beat the shit out of someone makes it very credible that indeed Shania wanted to see Shelia beat the shit out of Skylar, since Shania also loves Shelia & had a lesbian relationship with her. Yes, we know, a lot of S names there, but we have a smart audience. Maybe calling them Skylar, Scandalous #1 & Scandalous #2 would be less tongue tying. To this day, despite a dead former friend & intense investigations surrounding her, there appears not to be a shred of maturity or growing up in Shania Ammons as not only does she continue to be vocal & public on social media, but 100% of the incriminating garbage she spews are one of only three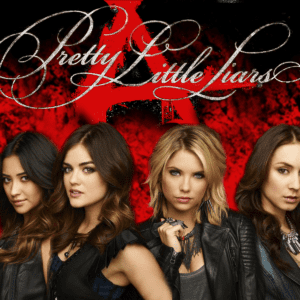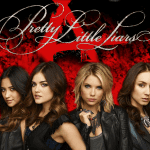 things; 1) her obsession (like the other killers too) with Pretty Little Liars (a show whose plot is identical to this Skylar Neese saga), 2) being a self confessed "bitch" & cussing out anyone & everyone, & 3) flaunting her constant state of being high as an underage drug user with no fear of repercussions from any adult. You would think she would get off the internet while this murder investigation continues, but seeing two of her friends already bite the dust doesn't seem to phase her. This just goes with the whole theme that these defiant little devils just never learn, even when they see it happening right in front of them, they don't see it coming like deer in the headlights. She's stated that if she was guilty she would have been arrested already, but maybe she needs a crash course in the statue of limitations for MURDER – NEVER. Seeing how slow these authorities have worked this case, they seem under no concern for safety to let killers mingle with citizens, so Shania, if guilty of even just obstruction of justice, shouldn't expect her arrest for years at this rate. Maybe she won't rethink threatening death on people & sharing her whole love for Pretty Little Liars until after those handcuffs lock against her wrists. Then she can hear plenty of cussing & seeing plenty of woman "beat the shit" out of each other in prison as her social media comes to life to haunt her forever! If you missed what we did there with those links, here's Shania's mouth/fingers at her finest again! (1, 2, 3, 4, 5) What role Shania Ammons played, either before or after, through involvement (as an accomplice to murder – beach alibi or not you do not need to be present to be charged with murder) or knowledge (in the cover up (tampering with evidence) or lying to protect her killer friends (obstruction of justice), is yet to be determined, but her continued support for the current killer list & recently trying to lie for Shelia over & over again are not going to help her cause at all, as her mouth & fingers have become her own worst enemy, but this very cultural conditioning in a college town such as Morgantown allows these teens to think they can get away with murder.
As for confessed killer Rachel Shoaf, she had a longtime boyfriend whose name is Mikinzy C. Boggs that goes to West Virginia University. She was afraid that he would find out about her lesbian love interest with Shelia, and him being 2 years older & a college guy who is also in a band & studying law – she did not want to lose him. It would appear motive enough for Rachel to take the reins by the horn & orchestrate the murder of her friend Skylar, but it was Shelia who had the natural ability to mastermind this, & had ice in her veins. She was the one who never cracked & who will now be charged with first degree murder. She was the one who always gave everyone a bitchy look. Rachel's 9 years of catholic school, a mom serving communion at church every week, along with church camps & this Young Life Christian Club where she was continually lying & denying to her fellow youth leaders/friends finally took its toll on an already passive follower who went along with what her secret lover Shelia chose for them. Take a look at Rachel & her boyfriend, what a cute innocent looking couple wouldn't you say? ALL pictures were snapped from September 2012 through December 2012 – can you see even a hint of guilt, remorse, or Skylar's haunting memory in Rachel's eyes?
Such a shame that this wholesome looking couple went to the wasteside. In the end, Rachel lost Mikinzy when her world started falling apart, both from the inside & out. With the authorities continuing to close in & mount the pressure on Morgantown, her inner demons were driving her to mental breakdown which led to her stay in the psych ward. Her confession on January 3rd would do more then clear her conscious & make her feel like she washed her hands clean with a new outlook on life & path for the future, but it would pave the way for a dramatic chain of events. The further incompetency of authorities would not go unnoticed to the shocked & disturbed community of Morgantown! Not even in hindsight mind you, but in real time as the investigation was unfolding the town was realizing, month after month, that the fact of the matter was that 2 killers were being allowed to roam free, smoking their weed & cruising around town, checking in at school just to take tests, leaving & being free as birds to interact with anyone & everyone for the last 4 months despite knowing who they were & what they had done to Skylar! Regardless of what authorities will say, this was not an ongoing investigation, it wasn't "Lets keep a drug dealer on the streets so he can lead us to the kingpin". This was 2 simplistic idiotic & very evil high school killers being allowed to remain free & interact with other students despite having killed a student already, from the day Rachel confessed on January 3rd until Shelia's arrest on May 1st! It was determined that Rachel would remain free in order to interact with Shelia & set her up in conversations online & with wires. Both killers continued to show up to school to take tests, & Rachel was enjoying her retirement from having to attend class, & just show up for tests as evident from her inappropriate post here about her assistant principal.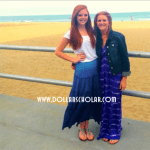 In the final days before Rachel would self-surrender on May 1st, her mom Patricia Shoaf took her on a beach trip as a goodbye, bonding & growing up of sorts between mother & daughter as they drank & smoked together. No word if the divorced father, Rusty Shoaf went as well. (yes, both killer's lived in broken homes, shake my head) The screenshots below are self-explanatory – all from the final few weeks of Rachel's freedom in April 2013 ending in Rachel tweeting goodbye to the world. Rachel knew what was coming on May 1st, along with her family & her former boyfriend Mikinzy, but other then this no one knew what was coming next as she continued to lie & deny to the very last day to friends & her church group that anything was wrong or why she was missing school & that the rumors about her involvement in Skylar's death were false….
Rachel's Cryptic Goodbye Tweets So As To Not Tip Off Shelia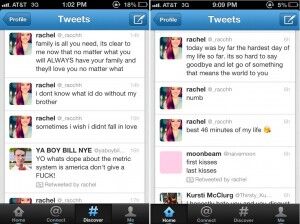 Share this story
Read the original 160 comments from readers @ DollarScholar.com before we migrated this story to NewsBall!
RELATED ARTICLES & UPDATES IN THE SKYLAR NEESE MURDER STORY
*June 8, 2013 UPDATE* The Globe & Dateline NBC have both contacted us with interest to also report on the Skylar Neese murder.
*June 14, 2013 UPDATE* Police Chief of Morgantown hears about this report. The heat is on the authorities now to bring justice to Skylar & life in prison to Shelia!!!
*June 20, 2013 UPDATE* Shania Ammons goes private, while we go more public!
*June 25, 2013 UPDATE* Coroner refuses to give up the body of Skylar Neese to her parents – CALL & EMAIL HIM!
*June 25, 2013 UPDATE* Skylar Neese Murder – Details emerge about another suspect being investigated
*June 27, 2013 UPDATE* Shania Ammons Arrested, About the Gang, & Mail.
*June 28, 2013 UPDATE* Exclusive Interview with the surviving victim that killer Shelia Eddy tried to destroy
*June 29, 2013 UPDATE* Radar Online credits NewsBall for the Skylar Neese murder story in their article
*June 30, 2013 UPDATE* (Video) Mass Media are protecting a killer – SO Shelia Eddy Shelia Eddy SHELIA EDDY SHELIA EDDY
*July 1, 2013 UPDATE* LANDMARK MOMENT: Examiner gives NewsBall credit & identifies Shelia Eddy
*July 9, 2013 UPDATE* (VIDEO) EXCLUSIVE Footage of Killer Shelia Eddy with victim Skylar, text convos, family pictures, & case updates
*July 19, 2013 UPDATE* (AUDIO) EXCLUSIVE – Close family member of Shelia Eddy reveals more details that the authorities won't share
*January 24. 2014 UPDATE* UPDATE: Skylar Neese's Killer GUILTY & SENTENCED! Defiant & brazen Shelia Eddy pleads GUILTY to killing Skylar Neese & is QUIETLY sentenced the same day!
*February 20, 2014 UPDATE* JAM PACKED FINALE on the Skylar Neese Murder Case: lesbian sex tape confirmed, Shelia's mugshot & her prison mailing address, new pictures, interviews & more
*February 26, 2014 UPDATE* Rachel Shoaf sentenced to 30 years in prison to close the saga on Skylar Neese murder story – Dramatic Sentencing Hearing Sheds Light on Confession
*March 5, 2014 UPDATE* The Skylar Neese Epilogue – Everything from Shelia Eddy PRISON LETTERS to Skylar's Story on NATIONAL TV SHOWS