"WE ARE NOT DEAD YET" – trapped teens texting their loved ones from inside a now underwater ship (read updates of this at bottom)
A NEWSBALL EXCLUSIVE TIDBIT: Captain seen fanning out his money to dry it in the hospital says our local dry cleaners who translated a Korean newspaper for us!
Don't have an exclusive angle with this story, but it didn't matter – NewsBall needed to share this. The text messages that teens sent to their parents & friends while trapped on a sinking ship before drowning to death are so haunting & so horrifically intense that this breaking news had to be shared this morning. I felt compelled to the max to scramble to put this together after reading these text messages that are being sent out from kids drowning on a sunken ship. The moral of the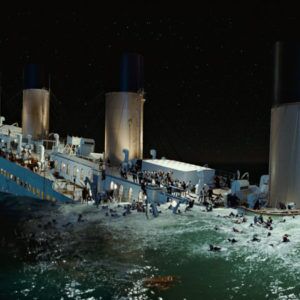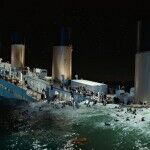 story? In life, sometimes it pays to ignore orders from authority. Those that refused to listen to the authorities on the ship to remain in their cabins ARE THE SURVIVORS, while the masses of sheep that listened to that insane order were drowned alive in their rooms. Hadn't they all seen the Titanic? Who hasn't?! How can you chill out in your room when the ship is rocking back & forth & taking on water? People trust authority way too much. Unfortunately, South Korea's culture teaches kids to value & respect orders beyond all else, so even as the ship was sinking, they listened to the idiotic orders to stay put in their cabins…
Imagine the sheer terror of being in darkness, water rising around you & you know the ship you are in is completely submerged under water. I do not think there will ever be a story with a more terrifying element to it then this. Isn't dying from drowning everyone's #1 fear of death?
Given the incompetence & cowardice of the Captain who before fleeing the scene to save his own ass, led the instructions in telling the hundreds of teens to stay put, & not to move even as the ship was sinking with vessels & fishing boats all around the Ferry ready to pluck the ship leapers out of the water, it is pretty safe to conclude this Ferry company is being sued – for millions. Recent tragedies with lawsuit potential are popping up everywhere, but with those there are arguments to be made that victims' families of the forever missing Malaysia airplane & the fed ex truck crashing into the school bus will not be victorious in court, but this Ferry tragedy is a disgraceful disgusting case of negligence. As was the case with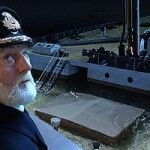 the Costa Concordia Italian ship that sunk, claiming the lives of 32 people, the captain was also negligent in this unfolding South Korean tragedy, both with his insane instructions to hundreds of teens, & then saving his own ass with the one & only life boat that was utilized.
Too bad captains only go down with the ship in the movies….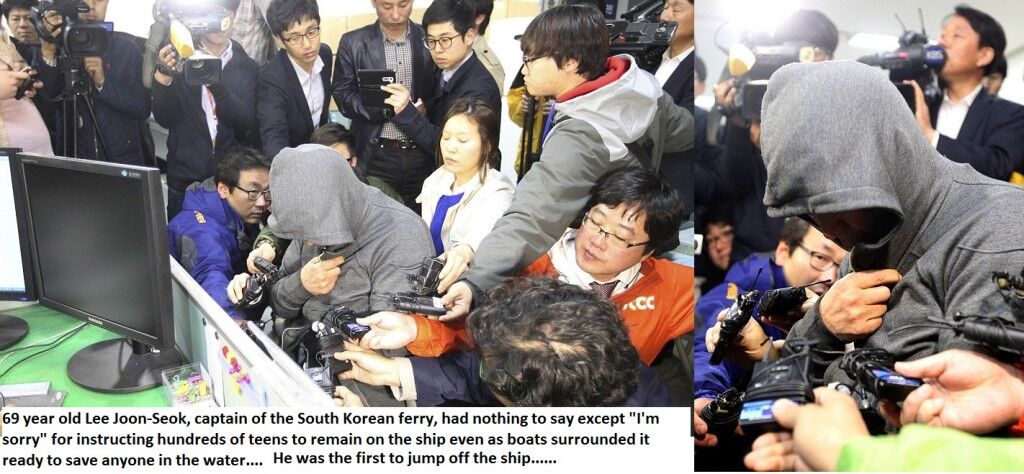 UPDATE 4/17: Turns out the text messages were all fake. Well played by the families of the 300+ dead. While only 14 are dead as of this writing, our wording throughout the original article above always assumed none of them would get out alive & that all of the teen texters pleading for help were going to die. Now we find out the parents of these dead teens made up those texts in an attempt to get rescue efforts to quit failing in entering the ship's chambers. Nice hoax. Article will remain for purposes of the flip flop article we shared above, if for nothing else at least to imagine a story someday where surely soon to be dead people were texting their goodbyes in the face of a horrific drowning death…. With this South Korea story being fake, the closest news story that has contained the similar chilling aspect of still alive victims communicating they were about to die was the 9/11 airplane passengers who knew they were going to crash & the world trade center victims who knew they were not going to get out & jumped to their death. Thought we had ourselves a more horrifying realization here with drowning being a much more insufferable fate then an instant airplane crash, but alas, the unimaginable final thoughts of those dead from 9/11 remain the undisputed horrifying aspect of a news story in a long time.
4/18: Now 29 dead, & 250+ still missing, but even guilt & shame filled survivors are dying in this Titanic parallel like no other. Another tragedy has struck in the case of the South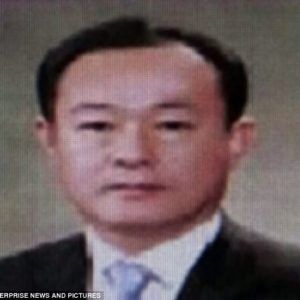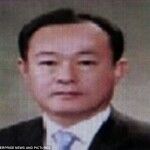 Korean ferry that sunk earlier this week. The vice principal of many of the students aboard the vessel was found dead today. Local police on Jindo island said the body of Kang Min-Kyu, 52, was found near the gymnasium where relatives of the 268 people still missing from the ferry disaster have been staying.
The vice principal, identified as Kang Min-kyu, was found hanging from a pine tree by his belt on the island of Jindo where rescued passengers have taken shelter. He was on the ferry as a guide for a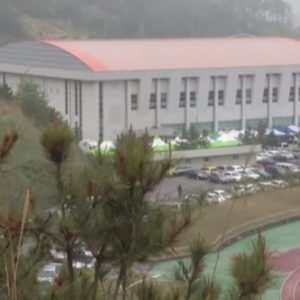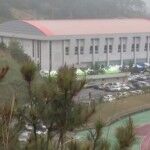 school trip and was rescued after it went under. Yonhap news agency reported that Kang had felt guilty for being alive while many of those under his care were missing. A handwritten suicide note was found in his wallet which translated to:
"While 200 (students) are dead or alive, it is too much for my strength to live alone.
Give me full responsibility. I was the one who carried forward with the class trip. Cremate my body and spread my ashes near the sunken boat site. In the afterlife, maybe I will be the teacher to the students whose bodies have not been found."
The news of the death came as rescuers scrambled to find hundreds of people still missing from the ferry and feared dead. The passengers included 325 second-year students from Danwon High School heading to a southern island on a four-day trip.
On the shore of a nearby island, angry and bewildered relatives watched the rescue attempts. Some held a Buddhist prayer ritual, crying and praying for their relatives' safe return.
"I want to jump into the water with them," said Park Geum-san, 59, the great-aunt of another missing student, Park Ye-ji. "My loved one is under the water and it's raining. Anger is not enough."
Too bad the Vice Principal wasn't the Captain – he would have stayed on that ship saving lives before he ever thought about ditching them to save his own ass.
It's important to note that South Korea has the #1 suicide rate in the world, & it is culturally accepted, so the shame survivors must be feeling is overwhelming, especially for the adults whose responsibilities it was to oversee the 300 kids on the ship. That is how the world should be – inspirational honor & regret-filled shame, but at the same time it is this very culture that killed 200+ students because when it comes to authority, you don't question orders. You comply like a robot -even as water fills up your room. They may as well have been handcuffed to a pipe in their cabin, because they were not going to defy an order.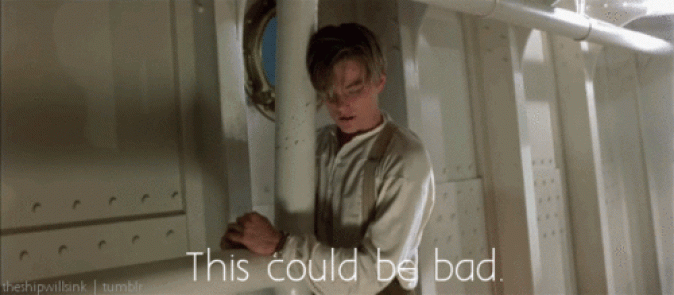 ***
As is our new policy, we try to end each sad, tragic story on a light note, so speaking of a most definite massive lawsuit coming against this South Korea Ferry company, & the captain in his official & individual capacity, here's a merit-less joke of a lawsuit that is the epitome of sue happy America in this disgusting world we live in today:
Seriously, "Flip Flop Settlement". Wow, you have got to be kidding. A company was sued & settled for 1.3 million dollars over SANDALS. So if you bought their sandals, be sure to be a piece of shit & claim your $25 to $40 refund! Can you believe the courts time is being wasted with frivolous crap like this that actually dodges past summary judgement to force them to settle before a trial where jurors would probably award 100 million because that's how idiotic jurors have become with punitive damages over nonsense like hot coffee from McDonalds, & undoubtedly flip flops that failed to make you fly.

Good thing NewsBall is judgment proof, because if sandal companies can be sued for their sandals not curing your cancer, or whatever jibberish nonsense is being accused of them here to get some people angry enough to actually sue over a SANDAL, then NewsBall would most certainly be sued daily if not for our invincible status as JUDGEMENT PROOF. We do welcome attempts though – we can always use the publicity……..